Invisalign is the invisible way to straighten teeth using a series of custom-made, nearly undetectable aligners. The aligners are made of smooth, comfortable and virtually invisible plastic that you simply wear over your teeth. Wearing the aligners will gradually and gently shift your teeth into place. There are no metal brackets to attach and no wires to tighten. You simply pop in a new set of aligners approximately every two weeks, until your treatment is complete and you achieve the confident smile that you've always wanted. The best part about the whole process is that most people won't even know you're straightening your teeth. So whether your teeth are crowded, too far apart or have shifted since wearing braces, you'll have a new reason to smile.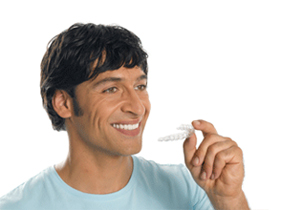 Why Invisalign?
Most people won't notice you're in treatment.
It won't disrupt your lifestyle.
No age limits.
Pain free.
Removable clear aligners that are virtually invisible.
Smooth and comfortable.
Removable for easy cleaning.
Eat whatever you want.
During your initial examination, Dr. O'Donnell or Dr. O'Hehir will decide if Invisalign is right for you. From there, they will write a treatment plan and take an impression of your teeth. This is submitted to Invisalign and using the latest advances in 3-D computer technology, Invisalign carefully translates your doctor's instructions into a series of precisely customised aligners. You then wear each set of aligners for about two weeks, moving your teeth, gradually – week by week, millimeter by millimeter – until you've achieved the intended result: straighter teeth.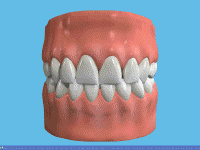 How does Invisalign Work?
Using the latest advances in 3-D computer technology, Invisalign translates your doctor's instructions into a series of nearly undetectable aligners. You wear each set of aligners for about two weeks, millimeter by millimeter until you've achieved the desired result.
Is Invisalign effective?
Thousands of doctors are treating patients with Invisalign. It works for a wide range of people whose teeth are too crowded or have spaces between them, as well as for those whose teeth may have shifted after having worn braces in their youth.
How often will I have to wear my aligners?
Invisalign only works while you're wearing the aligners. It's recommended that you wear your aligners full-time, day and night, except to eat, brush and floss your teeth – or as directed by your doctor.
How long does Invisalign take?
The duration of treatment depends on the severity of your case, which determines the number of aligners you need. However, the average is about 12 months, but only your doctor can determine the length of your treatment.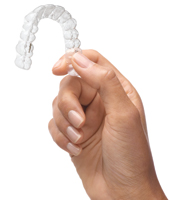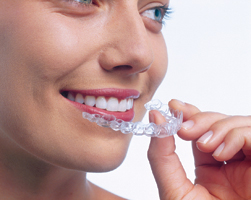 How much does Invisalign cost?
As with traditional braces, the cost will be based on the complexity of your case and the length of treatment. Prices start at €2,500.
How do I get started?
Call us here at Dean Street Dental to make an appointment for your FREE PRIVATE CONSULTATION on 056 776 4350.
To see some Invisalign Case Studies, go to our Clear Braces Gallery.
Invisalign Teen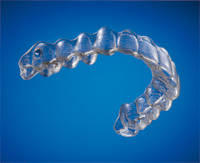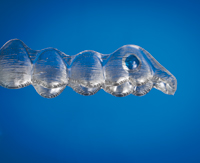 Hate the thought of metal braces? Invisalign Teen offers an easier, more flexible way to give your child the confidence of a great smile without the restrictions, irritation and self-consciousness associated with the metal brackets and wires of traditional braces. The great benefit of Invisalign is that it provides an aesthetic, more flexible way to give teenagers the confidence of a great smile. Unlike traditional braces, Invisalign aligners are comfortable and nearly invisible. Invisalign aligners are also removable, so teenagers can continue brushing and flossing normally. This can lead to better overall dental health in the future.
Why Invisalign Teen?
The Invisalign Teen aligners are made with the same Invisalign technology used for Invisalign aligners, moving teeth gradually without the need for metal or wires. Special features include a blue indicator which tells you when you are ready to move onto your next aligner.


Invisalign Teen offers more convenience for your schedule as well. For you, fewer dentist visits means less time out of your busy schedule.
For more information on Invisalign or Invisalign Teen, go to www.clearbraces.ie or www.invisalign.ie.